Angle bisector of a triangle
This online calculator computes length of angle bisector given the lengths of triangle edges
This page exists due to the efforts of the following people:
Author
Created using the work of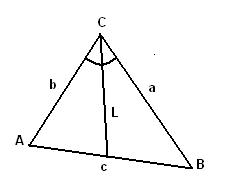 This online calculator computes length of angle bisector given the lengths of triangle edges (see the picture). Triangle vertices are usually named A, B and C. Triangle edges - a, b, c, where letter denotes opposite vertex. That is edge between A and B is named c, between A and C - b, between B and C - a.
The length of С's angle bisector shown on picture is:


Save the calculation to reuse next time or share with friends.